Insured Prizes allows you to offer the most compelling and effective prizes for your promotions, for a fraction of the cost and no associated risk.
Insured Prizes assures peace of mind for our clients with comprehensive policies underwritten by the internationally renowned Lloyd's of London. Insured Prizes can assist you with a tailored policy to meet your brand's promotion or event requirements from Hole-in-one coverage, through to insured headline prizes for Instant Win, Sweepstakes or Scratch Card promotions.
The Big Question we are often asked is - if the consumer actually knew they were winning only a 'chance' to win a prize such as a car or cash, would this negatively impact their intention to participate in the promotion?

Our associates at IMI International, the research experts, tested this theory and found that a "chance to win" competition was just as popular as a sweepstake (and considerably cheaper).
The key finding from this research was that the consumer responds to the chance to win a desired prize. Participation is driven by the 'prize' and the perception that 'It could be me'.
Typically very few will comprehend the insured element – even if they do, it does not appear to be a major de-motivator relative to sweepstakes.

In the figure below a "straight" instant win was the most popular (but significantly more costly than the "chance to win").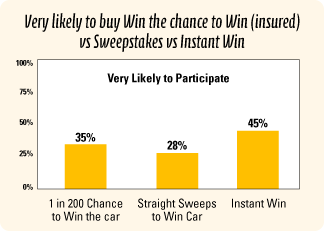 At Insured Prizes we can assist you with a range of complimentary services from luxury prize procurement, terms & conditions, relevant state permits, through to independent auditors and winner notification and publication.

* IMI Research 2006.