Insured promotions with Insured Prizes are favored by agencies and marketers due to their economy and their high success rates. For example, a sweepstakes promotion with the "Chance to Win" an insured prize of $1million would cost you only 2% to 9% of the value of the prize (ie $20,000 – $90,000). The cost is determined by the consumer probability of winning, and is fully insured by Lloyd's of London.
For example, a prize valued at $100,000 is insured against being won for approximately $4,000.
Step 1: The winning entry has the "chance" to win - just like a normal sweepstakes promotion but you do not give away the main (insured) prize unless the winner proceeds to defy the odds in Step 2 below.
Step 2: The winner from Step 1 has a 1 in 250 chance of winning (the odds can be altered by you). They select one envelope from 250 envelopes, or an alternate mechanism which can also be determined by you.
One envelope contains the winning insured prize, the remaining 249 options have a consolation prize. If the participant selects the winning envelope, they receive the $100,000 prize. This prize cost is covered by the Insured Prizes policy.
If it lands on the consolation prize, that is all the winner receives, but they have still had the chance to win the $100,000 prize.
This type of insurance dramatically enhances the success of your promotion by offering a highly appealing, attention grabbing prize, at a very low cost.
At Insured Prizes we ensure our clients are fully covered for their promotions via our 6 categories of risk management insurance which includes games and over-redemption, errors and omissions, printer's errors, professional risk (including incorrect or misleading advice), public risk, fidelity of employees (a major category), and contingent risk.
Take the cost out of your next promotion with our risk free approach to prizes.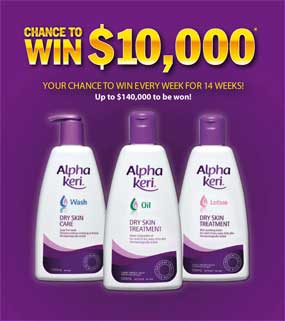 "The Alpha Keri chance to WIN $10,000 (Insured) promotion has been the most successful promotion in our company history, achieving the highest redemption rates ever!"
Kim Dao,
Brand Manager -
Skincare, Mentholatum Australasia Pty Ltd